C R E A T I N G   A   G O S P E L   B U Z Z
YEAR A EMPHASIZES THE GOSPEL OF MATTHEW
Your congregation will be hearing from Matthew in your sermons and liturgy throughout 2017.
IMAGINE   THE   IMPACT
If your members are excited about the Gospel of Matthew.
If your congregation sees Matthew as a sign of hope.
If Matthew addresses people's anxieties about our society.
If clergy friends enjoy meeting for coffee to discuss Matthew.
Here is an easy to use a resource to achieve such results. www.amzn.to/1ch7KCx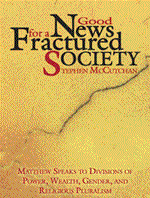 FIRST STEPS
After you have checked out the quality (I'll discuss that later), here are some ways that you might encourage people to consider Matthew as their resource for hope and encouragement.
You can find sermon starters for how Matthew speaks to societal divisions of power, wealth, gender, and religious pluralism.
You can invite one or more colleagues to subscribe to the course and meet weekly for coffee and discussion that would feed your theological imagination.
You can invite your educator or Christian Education Committee to have an existing adult class or a newly formed class to use the online course for discussion.

Each lesson is about 20 minutes long plus some discussion assignments.
A leader can buy the book for extra details (eBook $3.99 or paperback $11.39) and project the online course on a screen.
Or ask all class members to study the course at home and use class time for discussion.

You can give the course to an individual who is anxious about events in our society and encourage him or her to use this as a guide for reflection.
You can publicize the available course in your church newsletter and encourage either personal study or small home study groups.
www.good-news-online.thinkific.com
CHECKING   THE   QUALITY
As a pastor myself, I know that you don't want to simply recommend something to your friends or congregation without checking it out ahead of time. Here are some possibilities.
Go to Amazon and look for Good News for a Fractured Society amzn.to/1ch7KCx and make use of the "look inside" feature to examine the content.
Go to the dashboard where the course is offered online and listen to the introduction and opening chapter at no cost to evaluate it good-news-online.thinkific.com
Ask a member to try the course personally and evaluate it for you.
Buy a copy of the book for yourself either in eBook form or paperback.
Take the course yourself and gain some ideas for future sermons.
CREATING   THE   BUZZ
Once Matthew is being studied in various formats, occasionally mention the emphasis in worship and your church newsletter so that even those who are not part of the process are aware of what is happening.
Encourage several pastors to share the resource with their congregation.
Keep track of stories that arise in the study and share them with other congregations.
Have some joint congregational potlucks in which you design ways to celebrate your common study.
After they have studied the course, invite a special speaker to a church dinner to expand on the study.
Feel free to contact me, Steve McCutchan at mccutchangoodnews@gmail.com, with any questions or feedback that will help improve the resources for your church.
Write a review on Amazon www.amzn.to/1ch7KCx and/or Thinkific www.good-news-online.thinkific.com and spread the word.
Wouldn't it be wonderful if a significant part of the Body of Christ would find new hope and encouragement by a deeper reflection on the Gospel of Matthew

YOU COULD BE PART OF HELPING THAT TO HAPPEN.