MANNA IN THE DESERT
Beginning next Wednesday, May 27, I want to offer a reflection for the Psalm appointed to the next Sunday. The intention is not to offer thoughts for the sermon, but to offer a possible source of manna in the desert. The intention is to speak to the pastor and explore the message of the Psalm for his or her own personal journey. On Fridays I will continue to offer ideas about how to be intentional about the nurturing the health of the pastor, but on Wednesdays, at least through June, my hope is to allow the Psalms to speak to us as clergy.
The reflections will be drawn from my Lectionary Devotional, Streams of Living Water, Cycle B.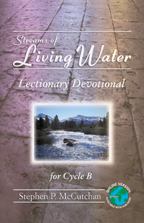 While the devotional offers theological reflections on each of the lectionary passages for the Sunday, since many pastors do not focus on the Psalm for their sermon, my hope is this might be an opportunity to step aside and allow the Scripture to speak to you personally.
If you want to explore the other dimensions of the three devotionals based on the Revised Common Lectionary you can check them out on my web page, www.smccutchan.com but for now the focus is on the Psalms and you.
I would appreciate hearing from you. My desire is to offer you something that nurtures you on your very challenging journey. Whether you serve a congregation or have another level of responsibility in the church, I hope that God will speak to you and nurture you on your journey.