We begin a new Easter season this week. We do it in the midst of violence both in this country and in our neighboring countries. Whether it is a shooting in a school like San Bernardino, societal unrest in Venezuela, or the gassing and then missal strikes in Syria, we are haunted by the violence of the world wherever we turn. The primary response, both legally and illegally, to our problems seems to be violence and counter violence.
Our Easter story begins with a series of acts of violence directed towards Jesus who was seen as a problem for both the religious and governmental officials. Even one of Jesus followers responded to his arrest by trying to defend him with a sword (Luke 26:51). Yet Jesus refused to allow such a response to prevail because he believed God had a better story to tell.
In my novel, Blessed Are the Peacemakers, www.amzn.to/2i5JMat I try to explore how that better story is fleshed out in our churches.
        Benefits for the Reader
A psychological mystery thriller that explores our response to violence in our society.
Shows the role of pastors in responding to violence in our society.
Demonstrates the way faith works through human pastors who struggle with real issues in life.
Illustrates how the church has a significant role to play in our society.
Helps the reader think through complex issues while enjoying a good story.
Offers a mystery that engages while stimulating fresh ways to think about the role of violence in our society.
Suggests why violence is attractive to humans feel overwhelmed by the complexity of our world.
Explores the relationship between violence and our hunger for transcendence.
Provides an image of dignity for the role of pastoral leadership.
Shows the interrelationship between faith, violence, humor, honesty, doubt, and human interaction in our church communities.
Provides an image of healthy relationships in the midst of stressful challenges in life.
Primary target audience is clergy, many of whom feel underappreciated in their profession and would enjoy a story that shows clergy in a favorable light. Secondary audience are those who enjoy reflecting on the relationship of the spiritual and society.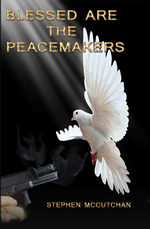 EASTER HAS REQUIRED A LOT FROM YOU. NOW, STOP, BREATHE, AND MAYBE EVEN READ A GOOD BOOK.