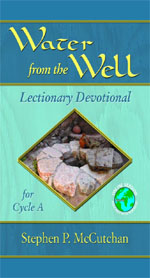 Water from the Well.
We can all use nourishment to sustain us on our spiritual journey, and there´s no better source to get a refreshing drink from than God´s Word. In these pages, Stephen McCutchan helps you draw from that endless well with a complete set of theological reflections based on scripture texts from Cycle A of the Revised Common Lectionary. His insightful meditations guide you through each Sunday´s passages by focusing on key themes and highlighting the text´s central meaning for our everyday lives.
This volume is perfect for use as a daily devotional – five easy-to-follow formats for personal meditation are included, allowing you to combine prayer time with reading one of the week´s scripture texts and its accompanying commentary. It´s also a valuable reference for sermon preparation, as well as an excellent curriculum for adult classes integrating Bible study with Sunday worship. But however you choose to use it, Water from the Well is an inspirational resource that will strengthen your connection with the divine story and your ability to hear God´s voice speaking through scripture.
ISBN-10: 0-7880-2481-7
ISBN-13: 978-0-7880-2481-8
$23.95
5.5 x 8.5 paper (perfect binding)
CPC code: RELIGION / Christian Life / Devotional