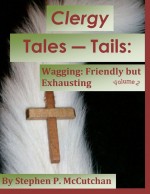 Publication date: June 20, 2013
The miracle of the church is not in our faithfulness but in God's faithfulness. We are witnesses to how our confused reality keeps being interrupted by grace.
In this second volume of Clergy Tales, I continue to paint the picture of what it is like to practice ministry in a resistant world. A major cause of stress for a pastor is the disconnect between the ideals of faith shaped by his or her beliefs and the pressures and demands of serving a church. A pastor is called by God and hired by a congregation. Sometimes, these two forces are in tension.
Having normal hopes and fears, we ministers wrestle with our own conflicted feelings of envy, as illustrated in The Gift Not Received. We feel the same financial pressures as do others and can succumb to temptation as happens in Did God Say? At other times, we wade through the muck of prejudice in order to help a congregation discover the truth of a gospel that transcends our narrowness as Beth does in The Tempting Fruit.
Yet repeatedly we discover that God is neither dependent on our purity nor defeated by the acts of faithlessness of clergy or congregation. Ministry is a complex mosaic of strengths and weaknesses in a confusing and sin-filled world.