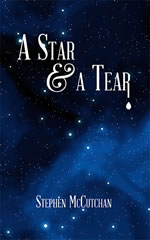 A Star and a Tear: A mystery novel exploring the symbiotic relationship of sexuality and spirituality..
A Star and a Tear, http://amzn.to/1aTDdgs, my new mystery novel, provides an opportunity for church school classes or clergy groups to both enjoy a good mystery and discuss together how to respond to some of the complex issues confronting the church in our society.
A Star and a Tear is a mystery thriller with a spiritual edge. Frank Sessions is locked in a season of grief caused by the violent death of his wife during a convenience store robbery. He emerges out of his grief when a young reporter asks for his assistance in writing a story about a rape in the city and Frank realizes he has a strange connection with the anonymous rapist. It soon becomes clear that the city is confronting a serial rapist with a religious fixation.
Racing against time, Frank Sessions seeks to assist the police to track down a serial rapist recognizing that there are strong indications that the rapist will soon escalate to murdering his victims. If he is to succeed, he needs to confront an embarrassing chapter in his own past and recognize the strange symbiotic relationship between sexuality and spirituality present in religion.
As one reviewer commented, "As the mystery and the search for the rapist develop, the author, . . ., takes us deeper and deeper into what it means to be a person of faith in crisis.
Another review states: "Amid the story's varied twists and turns there is danger and darkness, humor and irony, faith and hypocrisy. (Like in the Bible?) Whether one takes religious issues to heart or views them as a creative vehicle for the story, A Star and a Tear makes fine reading."
In addition to being an exciting mystery, the story provides the opportunity for a needed discussion about the issues of sexuality and religion. As a third review states: "This book, which takes us behind the closed doors of clergy confidentiality and privilege deserves to be required reading for in-depth discussion in Pastoral Care classes in all Protestant and Catholic seminaries. It also will serve clergy groups wherever the search for integrity and support, guidance and faithfulness really matter."
While an enjoyable mystery with plenty of challenging twists and turns, A Star and a Tear also provides the foundation for a discussion on both the creative and destructive power of sexuality in life. Whether it be several clergy, lay people who want to explore this significant issue in the church, or someone who is interested in how to live a healthy life, this book is both an enjoyable and valuable foundation for exploring the relationship between sexuality and spirituality in our society. The mystery will keep you reading while the group discussion may deepen friendships and challenge your thinking.